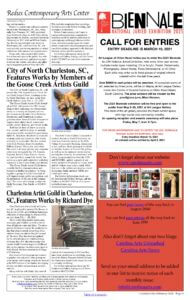 Charleston Artist Guild in Charleston, SC, Features Works by Richard Dye
The Charleston Artist Guild in Charleston, SC, is pleased to present The Beauty of Sea-Level, in Oils, an exhibition featuring a collection of oil paintings by Richard Dye, on view from Feb. 1 – 28, 2021.
Dye's work often depicts landscapes, seascapes, and wildlife, as well as the ef- fects of light on water and skies. "I want to portray the beauty I see in the world day to day, but often overlook in our busy lives, another chance to admire the gifts around us" he states. Dye has been recognized
for his artwork since his childhood days in Oyster Bay, NY. His relationship with coastal South Carolina began in childhood also, as his summer vacations were spent at Folly Beach. He later attended the College of Charleston.
Dye lived in New England and worked in graphic arts and sales. After joining art associations and winning awards, he studied at the NH Institute of Art further developing his fine arts skills and painting in acrylics and oils.
Along with his wife Heidi, Dye moved back to the Lowcountry in 2019 and has since been juried in as an exhibiting member of the Mount Pleasant Artist Guild and the Charleston Artist Guild where his work is currently exhibiting.
For further information check our SC Institutional Gallery listings or call Steve Jacobs at 843-722-2454.
Visit CarolinaArts.com to read the full February 2021 issue.